Hello, and welcome to my webpage. I'm a journalist, broadcaster, author, public speaker, and professor. I am based in Ann Arbor, Michigan, and most recently lived in New Orleans.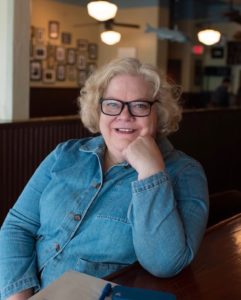 Here are some of the topics I'm pursuing these days.
BOOKS: My latest book is out now. It's called SATISFACTION GUARANTEED: How Zingerman's Built A Corner Deli Into A Global Food Community.

Satisfaction Guaranteed is available in hard cover, for Kindle and other eBook readers, as a CD and as an audio book. (That's me reading the introduction.)
You can order a copy from my Bookshop.org shop, from Amazon, or your favorite independent book seller. You'll find it for sale at Zingerman's Deli, and you can get it through the Zingerman's Press website.
Signed copies as well as bookplates are available. Contact me at  CulinaryWoman@gmail.com to purchase a personally autographed book or obtain a bookplate for the copy you already own. I accept cash, checks, credit cards and mobile pay apps. If you're in Ann Arbor, I'm happy to drop it off.
I'm available for book events, either in person or virtual. Contact me at CulinaryWoman@gmail.com for booking details. I can arrange to have books available for sale.
NEWSLETTERS. I write two newsletters on Substack, reflecting my dual interests in transportation and the food world.
Intersection: Everything That Moves debuted in September, 2023. It's the digital sequel to my 2003 book, The End of Detroit: How The Big Three Lost Their Grip On The American Car Market. Intersection offers essays, data, audio, video and photos in telling the story of the carmakers, consumers and workers during the past 20 years, and looks ahead to the industry's electric future.
The CulinaryWoman Newsletter looks at the turbulent restaurant and food worlds. It is one of Substack's Top 100 newsletters on food topics. Our audience includes chefs, writers, and people who are interested in everything culinary. I offer personalized coaching, too. Read more on the CulinaryWoman page.
FOOD WRITING. I'm also writing about food for The Takeout, aiming for ways to make your culinary life easier. See my Assembling series, which speeds the way to putting together delicious meals.
OTHER BOOKS: Find The End of Detroit and my four other books here.
SOCIAL MEDIA: I post most frequently on Instagram and Threads @michelinemaynard. I'm Micheline Maynard on LinkedIn.
PRODUCERS: I have access to a landline, Report-IT on my mobile phone, Facetime, Skype, can arrange for an ISDN, and I can arrive at the studio camera ready.
APPEARANCES: I'm available for public speaking engagements, virtually and in person. I can host your event, moderate a panel, and be a keynote speaker. My rates are flexible, especially for non-profit organizations. Email me at michelinemaynard@gmail.com with your proposal.
COACHING: My CulinaryWoman Coaching feature offers advice to writers, small businesses and budding entrepreneurs. See the CW tab for more information
ENDORSEMENTS: My only product endorsement is for Vocalzone, the worst-tasting lozenges you can find. Believe me, they'll clear up your throat in no time. No money changes hands. Only lozenges.
That's it for an introduction. If you want all my career details, take a look at My Bio.